Paris is truly the capital of the fashion world. The gorgeous-ness of all the Paris fashion week offerings are just endless and cannot possibly be encompassed in our usual 2 wrap-ups. Here are just some of their latest offerings. . .

Chloe
It appears that new born mothers are on a run here. Following Stella McCartney's collection, Phoebe Philo's a/w 2005-06 for Chloe was equally as spectacular. Blue, black and white were the main color theme for the show, which consisted of their usual chic, emaculately tailored outfits and their signature flowy feminine cocktail dresses.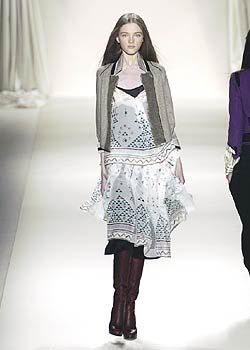 The boho luxe look, perfect for a stroll down the shops. . .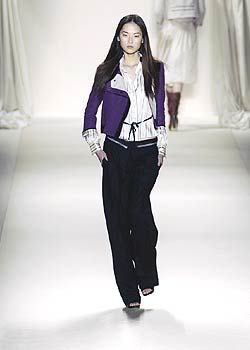 The chic office look: neat, trimmed and oh-so-stylish.



Ah. . the flowy cocktail dresses. Only question here is, the black. . .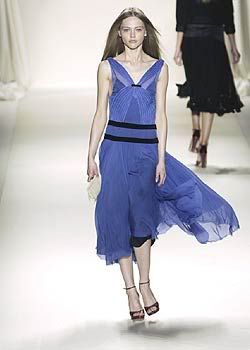 . . .or the blue?Or both?
Christian Lacroix
Following his success in his haute couture collection, Christian Lacroix produces yet again another stunning collection consisting of lots of prints and furs fashioned in a way that reflects the artistry, technique and skill that is Christian Lacroix.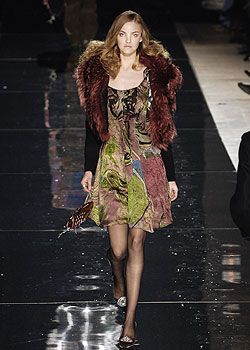 Echoing the patchwork trend that is so popular this season, this dress is oh-so-skillfully put together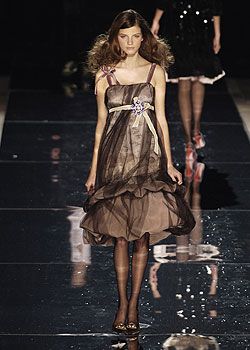 And I'm sure that lots of effort and skill has went into this baby doll dress with the seemingly random creases and folds.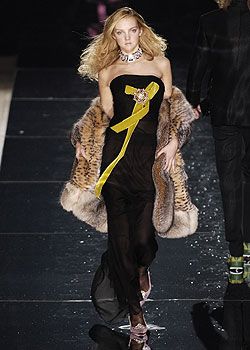 And this sexy black dress matched with printed fur is just downright wild and sexy. Stay tune for Loius Vuitton, YSL and more!